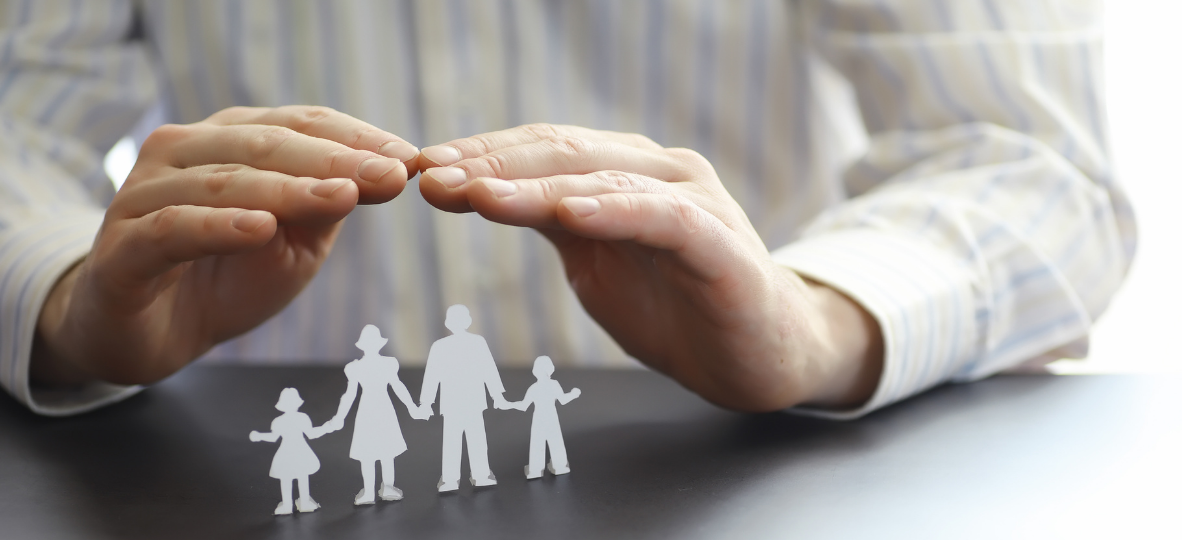 Like most people, you insure your home, car and even your mobile phone against the unexpected. If you have a pet, you probably insure them too.
But what about your income?
When life is going well, we tend to take money for granted. Money pays our bills, lets us take care of our family, enjoy our home, car, hobbies, and holidays.
Your income is essential to your quality of life.
But what if you were to have an accident or long-term illness that prevents you from earning a living? Would your family survive with the drop of income? Would €203 per week state illness benefit pay your bills?
These are difficult questions to ask, but if the answers are no you need to rethink your strategy.
This is where income protection insurance comes in. It provides you with alternative income when you are unable to work. But most importantly it gives you peace of mind in any eventuality.
It is different to health insurance – it is insurance for daily living. When illness or injury leaves you unable to work, income protection provides you with financial security.
It will help you to keep on top of the bills that matter most when you are sick.
What is Income Protection Insurance?
Income protection is a financial cushion. In the event of an accident or illness, an insurance company will pay you a regular income, maintaining your quality of life.
In short, it maintains your lifestyle while you concentrate on getting better.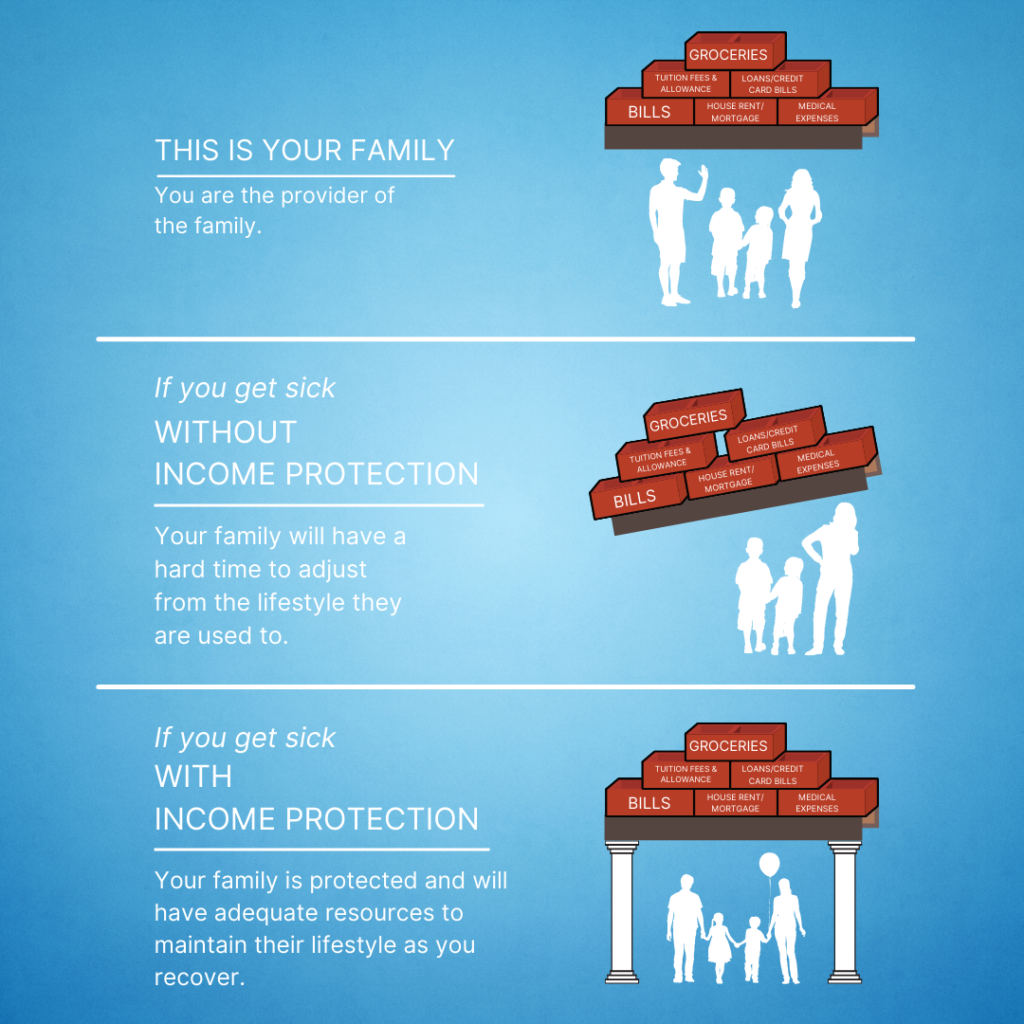 How does it work?
Income protection gives you a replacement income of up to 75% of your annual salary, minus any state illness benefit you are entitled to if you cannot work due to illness or injury.
You get your benefit only after you have been unable to work at your job for a certain period of time. This is called 'the deferred period'.
When you take out your policy, you can choose what deferred period you think would suit you best, typically four weeks, 13 weeks, 26 weeks, or 52 weeks.
If you choose a deferred period of four weeks – it means you must be unable to work for four weeks before the income protection payments begin. It will cost more than if you chose 13, 26 weeks or 52 weeks.
Before you decide on the deferred period, check if your employer offers sick pay and if so, how much and for how long.
How much does Income Protection Insurance cost?
Costs will mainly depend on the:
Level of cover
Deferred period chosen
Term of the policy
After that, the main factors are your age, health, family medical history and so on.
Age
The older you are, the more likely you are to develop health issues, therefore leading to a higher premium.
Occupation
Some occupations carry a higher risk of accidents and illness than others. Also, it is easier to return to work after an illness or accident in some occupations.
Smoker Status
Smokers have a higher premium due to increased heath issues.
Deferred Period
The shorter the deferred period the higher the premium as the insurer will have to pay out earlier.
Benefit Amount
The higher the sum insured the higher the premium.
Health History
If you have previous health issues the insurer may add loading or exclusions to the policy as you are at a higher risk of claiming.
Can I get Tax Relief on my payments?
Under current tax law, payments to income protection insurance plans are eligible for full income tax relief at your marginal rate of income tax (20%/40%).
The maximum amount of payments you can claim tax relief on is limited to 10% of your total income for the tax year of tax assessment. Your total income is any earned income, as adjusted for tax purposes.
How long does your benefit last?
Usually, your benefit payment stops as soon as one of the following happens:
You return to work.
You reach age 55, 60 or 65, depending on the policy. This is called the 'benefit cessation age'. This should be no later than your planned retirement date.
The insurer's medical officer, who may check your medical condition from time to time, decides that you are fit to return to work.
You pass away.
Additional Features
Each insurance company offer additional features to their income protection policies. Some of the more common features include:
Proportionate Payment
 A partial benefit payment may be payable if you return to work on reduced earnings. If, because of your illness or injury, you are only able to return to work part‑time or have to pursue an alternative occupation with a lower income, you may be eligible for a proportional payment to help make up for some of those lost earnings.
Guaranteed Increase Option
This lets you increase your income benefit by 20% of your original amount without giving evidence of your health. This is offered to you every three years.
Hospital Cash Benefit
You receive a daily replacement income if you are in hospital for more than seven days during your deferred period.
Waiver of Premium
You will not pay any premiums while in receipt of the policy, but your plan will carry on as normal. This means if you return to work and need to claim again, you can.
Relapse Benefit
Your claim will immediately restart if you relapse with the same illness within six months of returning to work. If this happens, you will not have another deferred period.
Occupation Change
Your plan will continue if you change jobs, regardless of what you will be doing in your new job. Your plan will also continue if you are made redundant. You will not be able to claim while you are looking for a new job, but you won't have to reapply for cover when you are employed again.
For more information about income protection insurance, contact us today.
What Does the Financial Planning Review Cover?
Step 1
You – Complete a short online application form
Step 2
We – Generate your personal report that outlines your current benefits.
Step 3
Together – We schedule a review online (we use Zoom, or a platform you may suggest) or over the phone to discuss what options are available to you.
After we complete the review, many employees are delighted to have their options regarding pension planning, salary protection, life protection, savings and investments explained to them so clearly. Not only that, but we can also set up policies for you all online in a very fast and efficient manner. 
Get your complimentary, personalised review today! You have nothing to lose!