What exactly is an AVC?
An AVC (Additional Voluntary Contribution) is a tax-efficient way to top up your pension. When you retire, you can use the money invested in your AVC to buy the additional pension benefits you want, subject to Revenue rules.
With an AVC you are investing in your future, to enhance your lifestyle and the financial security you enjoy in retirement.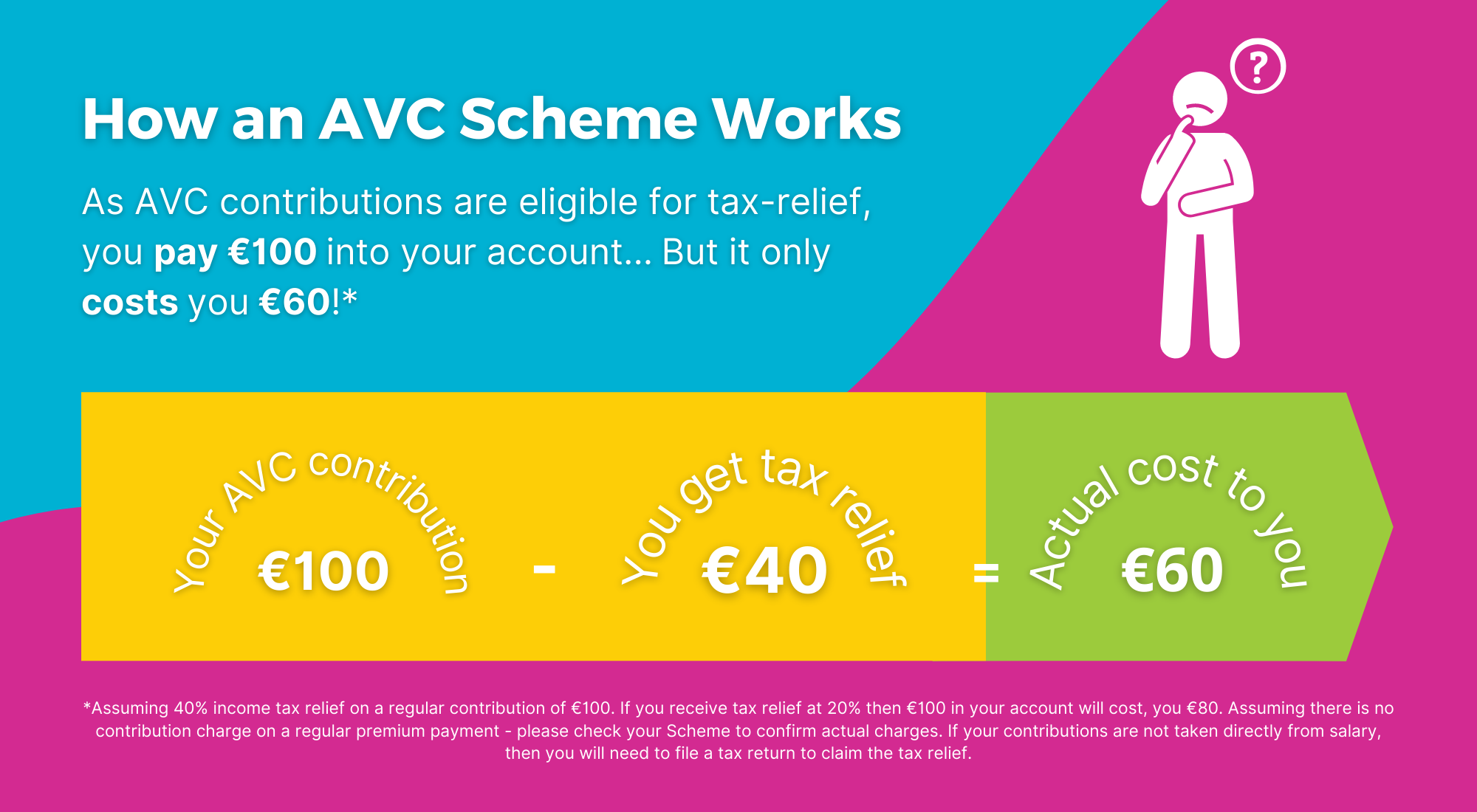 Benefits of an AVC
When Retiring You can Choose the Pension Benefits that You Want.
When the time comes to retire, AVCs let you choose what benefits you want, these include:
Tax-free lump sum
Approved Retirement Fund
Taxable cash
Annuity
We highly recommended you talk to one of our financial advisors who will take you through the process, step by step, to help you maximise your options.
You have Full Control over How Much You Invest
It's your AVC so you can increase, decrease, stop or restart your AVC contributions at any time.
This means as life events occur your priorities may change; so too can your investment, ensuring financial security when you retire.
Option of Early Retirement
An AVC can help you to retire early providing you with additional income of up to 2/3s of your final salary as well as an initial lump sum of up to 1 and 1/2 times your final salary.
Tax Relief
Investing in an AVC allows you to save money for your future and get tax relief right now!
For example, if you pay income tax at 40%, for every €50 you invest in an AVC the actual cost to you is only €30!
This is because you will get €20 of your €50 investment back in tax relief.
Why choose MadeSimple?
We use technology to facilitate a more personalised and environmentally friendly financial advice service from the comfort of your own home.
We aim to de-jargon pensions and personal finance, explaining them in lay mans language because we know they can be over complicated.
AVC Frequently Asked Questions